CELEBRATING TEN YEARS OF EXCELLENCE
Let's take a trip down memory lane…
Client: HUNTER PR
Celebrating the many messages of optimism and empowerment, Jane Walker by Johnnie Walker brought the Signs of Progress Truck to the Women's March in Washington, D.C. The truck distributed free signs to marchers, designed by talented artists. At the end of the march in Freedom Plaza, attendees were able to donate their signs to history at the Jane Walker Preservation Station. Homemade signs were collected and cataloged for a future pop-up exhibit in partnership with the New York Historical Society - Center for Women's History. "With every step, we all move forward."
Client: LEO BURNETT
Marshalls helped last minute Father's Day shoppers elevate their gift-giving game, literally. Located in Flatiron Plaza, the 30-foot scalable billboard was filled with father-friendly gifts, from kayaks to socket sets to BBQ grills.
Since this wasn't a typical shopping experience, neither was the payment. Shoppers, with the help of some members of the Upright Citizens Brigade, shared the currency of some pretty spectacular dad jokes.
"What does an angry pepper do? It gets jalapeño face!"
For seven hours climbers scaled the billboard to retrieve and restock gifts for last-minute shoppers. This unexpected Father's Day gifting solution showcased how Marshalls surprises shoppers with every visit, given its exciting ever-changing mix of products. The activation even included a surprise appearance by musician Kevin Jonas, who joined the fun and grabbed a gift for his dad.
Client: HUNTER PR
From couches to beds our furry friends are never really free to roam the entire home. Scotch-Brite broke down those barriers with their powerful lint roller, and invited New York pups to shed and play on a massive cuddle couch in Central Park. Even insta-famous petfluencers joined the fun and helped celebrate National Pet Month. (shoutout to @toastmeetsworld, @goldens_glee, @louboutinanyc and @brussels.sprout)
So go ahead lil' pups, shed all you want, the Scotch-Brite lint roller is here to save the day. Our dogs are #worththemess!
Silver Anvil Winner - Special Events
Client: HUNTER PR
Dark Horse Wine is a brand with an emphasis on being bold and spirited. To embody the brand's essence, we designed a one of a kind tasting stable, transforming a shipping container into a two-story wine bar. The experience was full of discoverable brand moments, from chandeliers made with Dark Horse Pinot Noir bottles to a wall dedicated to the life of winemaker Beth Liston. The tour hit the festival circuit, from Bonnaroo to Firefly to Boston Calling. Festival attendees may have come for the music, but they stayed for the wine. Cheers!
Client: KETCHUM PR
To demonstrate the power of Gillette's Clinical Clear Gel Deodorant, we unveiled the Gillette Pressure Chamber in the heart of Grand Central's Vanderbilt Hall. Commuters, tourists and local New Yorkers alike had the unique opportunity to participate in an on-the-spot polygraph test administered by renowned polygraph expert Daniel Ribacoff. When the pressure spikes, Gillette Clinical Clear Gel keeps you cool and fresh.
Not only did participants receive product samples, but NBA star Carmelo Anthony stopped to interact and moderate polygraph sessions, adding to the already intense experience!
Client: WYNDHAM HOTEL GROUP
Four lucky Wyndham franchisees from a digital sweepstakes were flown to NYC for the chance to win one million dollars. We designed a massive gameshow experience and placed it in Times Square, where participants had a once in a lifetime chance by picking the winning suitcase on the wall. Hosted by the one and only Tony Danza! The gameshow inspired space then opened up to the public, giving away prizes and free hotel stays to New Yorkers and tourists alike.
Client: LEO BURNETT
Keebler aimed to bring charm and joy to cities all around the U.S with their "Tiny Doors" project. We helped source trees with openings shaped for elf sized doors and invited artists to create whimsical designs for each location. This became an exciting scavenger hunt for consumers to search their city in the hopes of finding one of these Tiny Doors!
Client: OOH PITCH
To celebrate the launch of the Mini Coupe, we placed a massive 40' rocket ship in NYC, with an actual vehicle attached to it. The Mini Coupe team, donned in authentic NASA suits, handed out freeze dried ice cream as New Yorkers took in the installation. Then, to increase reach, we partnered with the Halloween Parade and NY1, placing 4 Mini Coopers and astronauts in the parade route. Liftoff!
Client: STARCOM
To launch Kellogg's Crunchy Nut Cereal, we fabricated the world's largest cuckoo clock and placed it on Hollywood Boulevard. Bringing their campaign "It's Morning Somewhere" to life, every hour on the hour, for 24 hours, one comedian emerged as a character from a place in the world where it was currently morning. Hosted by Nick Cannon, the activation included 24 unique comic performances, 24 hour sampling and a live-feed of the cuckoo action to extend our reach globally.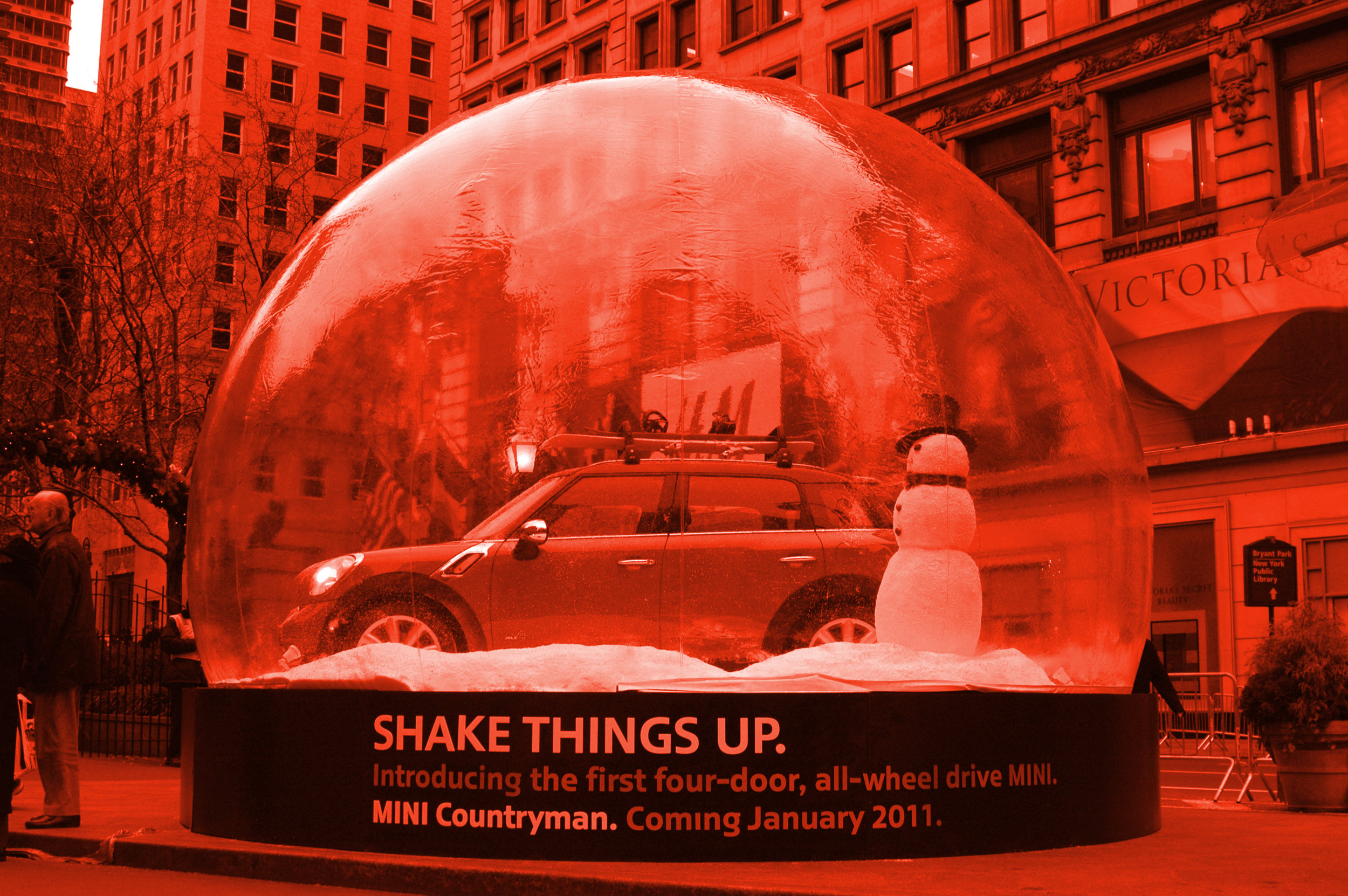 Client: OOH PITCH
MINI wanted to shake things up when introducing their first four door MINI Countryman. With winter being the season of launch it was the perfect time to create a giant MINI Snow Globe and literally "Shake Things Up". This became an eye-catching photo moment in both NYC and LA as on lookers snapped photos of the whimsical display while holiday shopping.
Client: OMNICOM MEDIA GROUP
Our first nationwide mobile tour! Oh the memories.
7 Interactive Trucks, 12 Markets, 1,600 brand ambassadors.
The Cricket Wireless Mobile Tour traveled the country educating consumers on their expanded coast-to-coast coverage. Blending interactive technology with mobile vehicles, consumers tested their geography skills with the Man vs Map challenge. We also dabbled in digital storefronts and projections throughout the tour.